The Baltic Chamber Orchestra is made up of soloists of the Saint Petersburg Philharmonic Orchestra and was formed by the conductor Emmanuel Leducq-Barôme and the violinist Lev Klychkov early in the year 2000.
In 2001 the Baltic Chamber Orchestra and its musical director Emmanuel Leducq-Barome received the prestigious AFAA (Associiation Française d'Action Artistique) prize, which is awarded annually by the French Ministry of Foreign Affairs.
The ensemble has made many recordings that have been unanimously acclaimed by the international press.
The Baltic Chamber Orchestra / Emmanuel Leducq-Barôme (Rubicon)
Honegger's Second Symphony, essenitally a war symphony, was given a huge boost when Hebert von Karajan recorded it back in 1969 for DG during one of those 'holiday' periods when he would take members of the Berlin Phil to St Moritz and record chamber-orchestra fare. His recording has never been out of the catalogue, but that's not to deny room for newcomers. The Baltic Chamber Orchestra (drawn from members of the St Petersburg Philharmonic) and their Russian-trained conductor, Emmanuel Leducq-Barôme, really get under the piece's skin and bring it vividly to life.

The Listening Room: Episode 72 - 25 May 2019
The Baltic Chamber Orchestra appears regularly at major venues in Russia and at many European festivals (France, Poland, Switzerland, Czech Republic, Sweden) with soloists of renown such as Natalia Gutman, Denis Matsuev, Pierre Amoyal, Regis Pasquier, Xavier de Maistre and many others.
Klychkov Lev (Photo: Maria Sprade)
Editor's choice, Gramophone Awards Issue, October 2017 ...
"Rarely have I been as moved by Strauss's 'Study for 23 solo strings' ... as I was when listening to this richly-textured recording by the Baltic Chamber Orchestra. Although the chosen tempos are comparatively broad, Emmanuel Leducq-Barôme keeps you on edge of your seat, principally by achieving maximum tension at the crest of each phrase ... Again the playing suggests maximum commitment."
Suggested Programme Repertoire
The Baltic Chamber Orchestra offers a suggested programme repertoire of four exciting concerts featuring works by composers such as Mozart, Pagannini, Vasks, Shostakovich, Rautavaara, Schnittke, Schoenberg, Sibelius, Greig, Tchaikovsky, Britten and others. Concert No.2 features Schnittke's 'Concerto for Piano and String Orchestra' (1979) with either piano soloist Sveinung Bjelland or Vassilis Varvaresos.
Download the Programme Repertoire
Conductor
Emmanuel Barôme
The steady rise to prominence of the conductor Emmanuel Leducq-Barôme has shown the qualities of this exceptionally-gifted musician to a remarkable degree.
He studied in his native France at the Conservatoire de Lyon, and later at the Geneva Conservatoire in Switzerland, before he was admitted, at the age of 21, into the class of conductor Mariss Jansons at the Saint Petersburg Conservatory. Emmanuel concluded his studies there under the legendary pedagogue Ilya Musin, mentor of generations of conductors including Rudolf Barshai, Valery Gergiev, Semyon Bychkov and Yuri Temirkanov.
Since 1997, Emmanuel has held the post of principal conductor of the Philharmonic Orchestra of Kaliningrad, where his growing reputation in Russia led him to direct the country's leading orchestras, including the Saint Petersburg Philharmonic, the Moscow Philharmonic, the Russian National State Orchestra, the Academy of Saint Petersburg Symphony Orchestra and many others, as well as appearing regularly at a number of Russia's major Opera Houses. Emmanuel's debut with the Saint Petersburg Philharmonic arose through a personal invitation from Maestro Yuri Temirkanov, since when Emmanuel has become a regular guest conductor of this great international orchestra.
In September 2000 Emmanuel became founding musical director of The Baltic Chamber Orchestra (formed by the principal string players of the Saint Petersburg Philharmonic) with whom he has made a number of greatly admired recordings as well as giving several tours with the BCO across Europe.
His steadily growing reputation in Russia and the Baltic countries has seen Emmanuel being invited to participate in numerous European summer music festivals – most notably in France, Sweden, Germany and Poland, where he has worked with such soloists as Natalia Gutman, Sergey Khachatryan, Pierre Amoyal, Yakov Kasman, Deni Matsuev, Regis Pasquier, Arto Noras, Ilya Yakushev, Andrei Korobeinikov, Alena Baeva, Denis Masleev and many others.
Particularly in France, Emmanuel has regularly conducted many of his native country's most significant orchestras, such as the Orchestre National du Capitole de Tolouse, the Nice Philharmonic Orchestra, the Orchestre Philharmonique de Radio-France, the Orchestras of Cannes, Bretagne, Picardie, the Lorraine Philharmonic and recently, L'Orchestre de Bordeaux-Aquitaine.
His recent operatic appearances in Russia have included productions of Carmen, Pique Dame and Iolanta where his growing reputation in the Opera House led to Emmanuel being chosen to conduct the season-opening concert at the Rio de Janeiro Opera as a replacement for Maestro Kurt Masur. Such was the success of this appearance than in of June the same year he made his USA debut at the prestigious Round Top Festival in Texas. Between 2014-2017, Emmanuel was Principal Conductor and Music Director of the Academic Symphony Orchestra of Saratov Philharmonic, since when Emmanuel Leducq-Barôme has been invited by Maestro Valery Gergiev to make his conducting debut at the Mariinsky Theater in the 2018/2019 season.
Soloists
Lev Klychkov, Violin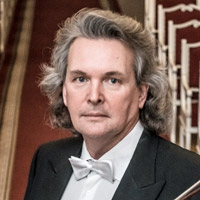 An Honoured Artist of Russia, Concertmaster Lev Klychkov was born in Leningrad in 1960. He began his studies at the School for Gifted Children and then attended the Leningrad Conservatory (Rimsky-Korsakov Saint Petersburg Conservatory). While there he won first prize in violin and chamber music. In 1981 he won the All Union Violin Competition in Riga. Mr. Klychkov's talent came to the attention of Evgeny Mravinsky who appointed him to the Leningrad Philharmonic in 1983. In 1999 Yuri Temirkanov selected him for the position of concertmaster. Lev is featured on numerous recordings with the Saint Petersburg Philharmonic, the Baltic Chamber Orchestra, the World Orchestra for Peace and the Nordic Symphony Orchestra. Lev has taught master classes in Korea and Taiwan. In addition to his performances with the Philharmonic he is an avid chamber music performer throughout Russia, Europe and the Far East.
Denis Gonchear, Viola
Winner of several international competitions, Denis Gonchear began studying violin at the age of five On 1993 started education in musical Lyceum in Moldova with professor Guseva Alla. In 2002 he started education in the special music school of Saint Petersburg and in 2005 studied in the Saint Petersburg conservatory (named after A. Rimsky-Korsakov) with professor Stopichev Vladimir. Since 2009 he has been an artist of the Saint Petersburg Philharmonic hall orchestra (named after Shostakovich) with maestro Yuriy Temirkanov. Since 2017 Denis has been a member of the quartet named after Taneev. Denis is also know as a conductor.
Artem Chirkov, Double bass
Winner of International Competitions, principal double bass Artem Chirkov is a native of Saint Petersburg. He began to play the bass at age 16 at the School for Gifted Children and then furthered his studies at the Saint Petersburg Conservatory. He continued postgraduate studies at the "Hochschule fur Music und Theater" in Munich, Germany. Artem has won many prizes, most recently the first prize of the inaugural Bradetich Foundation International Double Bass Solo Competition in Denton, Texas. In 2004, he became the youngest principal double bass in history of Saint Petersburg Philharmonic Orchestra. Artem has given master classes in conservatories and universities throughout the world and he tours internationally with the Philharmonic and chamber groups, in particular the renowned Bassiona Amorosa.
No cuts or alterations of any kind should be made to this biography without the consent of Baltic Chamber Orchestra.
Shostakovich: Chamber Symphony, Op. 110a - Strauss: Metamorphosen for 23 Strings
SCHOENBERG & HONEGGER - RUBICON RCD1043
"This is the first time I have heard this conductor's work, and I very much hope it will not be the last."

"Emmanuel Leducq-Barôme and the fine Baltic Chamber Orchestra deliver the most compelling account of this score I have heard."

"... conductor and orchestra combine to give another outstandingly compelling performance, growing in intensity and emotional strength, the committed nature of which, throughout, places the music on an altogether higher level of accomplishment than many previous conductors have achieved."

Robert Matthew-Walker, Classical Source, October 2019

SCHOENBERG & HONEGGER - RUBICON RCD1043
"Absorbing, passionately engaged playing from full strings."

"In short, it's the closest any recent exponents have come to rivalling the classic 1969 Karajan/Berlin Philharmonic account, and more vividly recorded too."

Matthew Rye, The STRAD, October 2019

SCHOENBERG & HONEGGER - RUBICON RCD1043
"The concluding bars of the Honegger, with the Bach-like chorale melody intoned defiantly by the trumpet and first violins, sound particularly thrilling in this performance which packs a mighty punch in the earlier disorientating and frenzied energy of the Finale ... some very adept playing"

Erik Levi - BBC Music Magazine, September 2019

SCHOENBERG & HONEGGER - RUBICON RCD1043
"... it's actually the beauteous luminosity of the sound - particularly towards the end - that affects the most and gets to the heart of the poetry."

"... Emmanuel Leducq-Barôme finds a special atmosphere in the slow middle movement."

Andrew Mellor, gramophone.co.uk

SCHOENBERG & HONEGGER - RUBICON RCD1043
"A terrific CD by an orchestra I thought I'd not heard of. It turns out that the Baltic Chamber Orchestra are a subgroup of the St Petersburg Philharmonic. This goes a long way toward explaining why, as listening to this, I kept noting how well they play. Strength and virtuosity are there in spades, add to that a lot of passion and what have you got? A brilliant chamber orchestra. The conductor too was a new name to me. Emmanuel Leducq-Barôme is student of Mariss Jansons, among others, and has been leading a successful career in Russia. Whilst admitting that an orchestra of this quality could probably play well without a conductor one detects the presence of a guiding hand in these two urgent and powerful performances. I can confidently suggest that even if you have other recordings of both these masterpieces you still ought to hear this one."

Dave Billinge, MusicWeb International